If you're planning on jetting off on holiday, this latest blog may be helpful, especially if you pack too much!
It can be easy to take too much away with you and find that you simply don't wear everything that you take. With these simple tips, I'll help you pack what you need and wear what you take!
Luggage
Invest in a lightweight suitcase so as much of your allowance is used on clothes as possible!
Preparation
Lay out your clothes, shoes and accessories so you can visually see what you have. You want to try and combine pieces together to make multiple outfits. (When you've had your colours done, this task becomes so much easier as mentioned below).
Be prepared to cut down the number of shoes and accessories you take as ideally you only need a few key pieces which will work with more than one outfit.
Think about that statement necklace; ideally you'll be able to wear it two or three times. A great pair of sandals will work with three or four outfits, especially if they are in a metallic shade like silver or gold.
Colours
Pick out just a few colours from your palette and choose clothes this way. It'll enable you to mix and match items much easier, creating a holiday capsule wardrobe.
Packing
Now, this isn't something I do, but it's long been recommended: Try rolling up your clothes to make the most use of space in your case. Use the inside of shoes for small items such as your underwear (I do however do this). Use sample sized toiletries such as shampoo and conditioner rather than taking the full sized container. It'll take up less room and weigh less! (And I definitely do this!).
Makeup
Hot summer weather can change your makeup habits. I prefer to use a tinted moisturiser when I'm away as it's more lightweight on my skin. I find I don't need as much coverage that a foundation provides.
You can purchase the Colour me Beautiful Tinted Moisturiser from me as I stock five shades now. Contact me for more details.
The magnetic colour boxes are ideal for home and away as you can take one box with multiple eye shadows and blushers. Plus, when you finish each item, just push it out and dispose of it so you only replace what you use! Very sustainable too. Replacement stocks are available, just let me know what you need.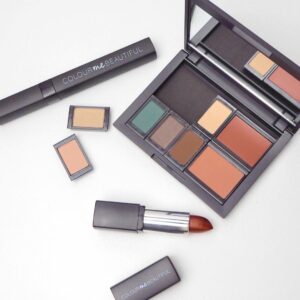 If you've already had your colours done then you may want to think about booking a style session so you can learn how to dress for your shape, lifestyle and personality.
Alternatively, if you're interested in learning more about holiday packing then get in touch about booking a session.
Happy holiday packing!