Wearing colour is the simplest and most effective way to update your image.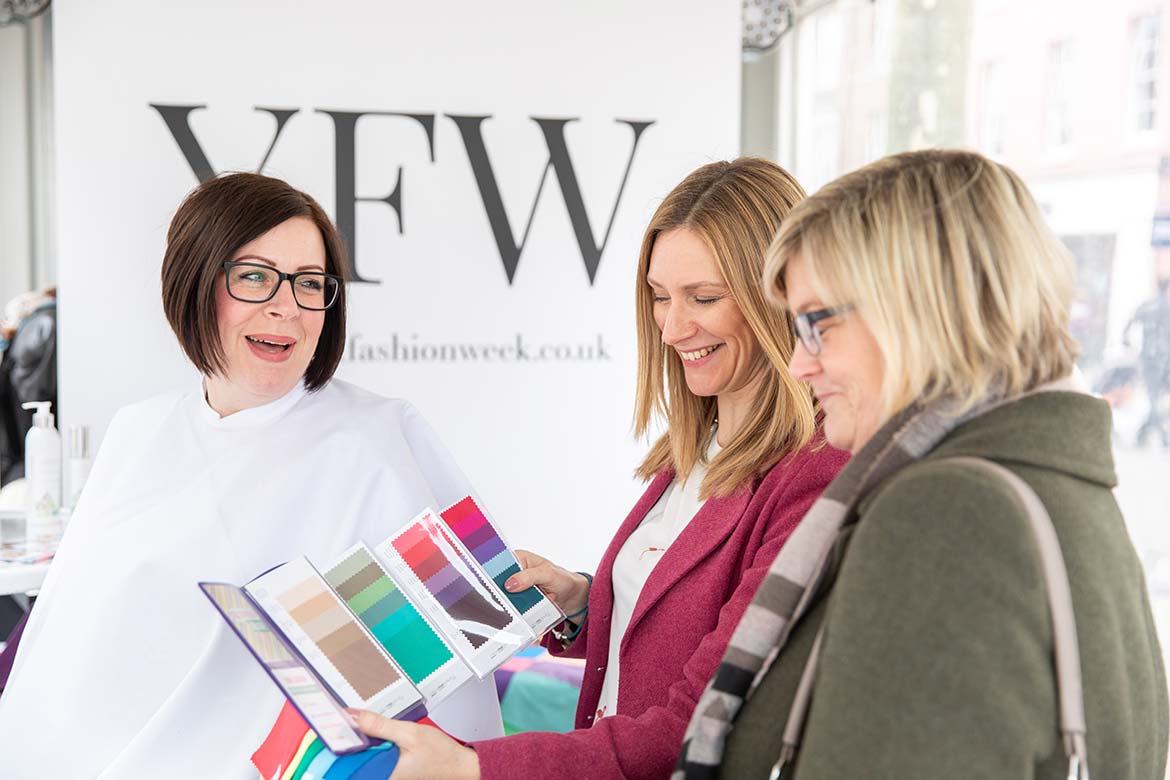 Do you want to wear more colour but not sure what shades suit you? 
Booking a colour consultation is the perfect way to change or develop your image. You'll be amazed at the difference that wearing the right shades of colour has and how you feel and look every day! To learn more about what's involved in a colour analysis session, watch this video here.
You'll learn the full range of colours which compliment and enhance your natural colouring. Learn how to wear your colours with confidence and combine them to create a more coordinated wardrobe. View some of the frequently asked questions about colour analysis here.
It's not only the colour of our clothes that are important, but also the makeup shades we wear.
Understanding how to wear colour is the underlying secret to getting your makeup and clothing right.
You'll be invited to the studio in Wakefield, West Yorkshire for your individual colour analysis. If you can't make it to a face to face appointment or you'd prefer a session from the comfort and safety of your own home, check out the range of online services available which are also available.
Should you prefer to experience a colour analysis as a group session, please visit our groups and event pages.
Colour is usually the first place people start their journey with, but if you'd rather start with style and image, click here.
Due to the current pandemic, it has been necessary to make some changes to our face to face services. Please review our Covid 19 information at the bottom of our website or contact us for more details. 
Complete Colour
During this full colour analysis session, you will learn your 'dominant' colour type, your second and third categories of colour and how to combine them all together. This session includes a wallet containing 48 fabric swatches, a Style update guide, a lipstick and a colourful scarf so that you can begin your new journey instantly with a colourful new look.
A natural application of cosmetics is included in the session matched to your colouring type using the Colour me Beautiful cruelty free cosmetic range to complete your overall look. The range has been specifically designed with your colour type in mind so you know the shades will match your skin tone. The products are paraben free and available to purchase on the day of your consultation and through our  online affiliate shop so you can be sure never to run out in the future.
You'll leave with your own personal colour swatch wallet of 48 fabric swatches and a style update guide to help guide you when shopping. A lipstick (or lipgloss if preferred) and a super soft fringed scarf, both prescribed to your personal colouring are also included.
Pricing
1 Person – £199 – 2 hour session
Client Testimonial
Not only is Toni lovely to spend any amount of time with, her advice was eye opening. I've only ever bought clothes based on whether I like the look of them and if they fit (no mean feat I can tell you!). Now, when I wear the colours suggested by Toni people comment, as if they didn't notice me or what I was wearing before.
Diane
Basic Colour
If you love the idea of a colour analysis but you would prefer to experience your session without the application of the Colour me Beautiful makeup range, then this session is for you!
You will still learn your main 'dominant' colouring type and how to combine the main colours in your palette together, but simply without any makeup application.
Your session is complete with your own personal colour swatch wallet of 30 fabric swatches to help guide you when shopping and a colourful super soft scarf, personalised to you so you can begin your colour journey immediately.
Pricing
1 person – £139 – 1.5 hour session
Colour Review
If you had a colour analysis years ago but you now realise that your colouring has changed, then perhaps it's time to book a colour review.
This individual session allows me to review your colours and makeup and provide a re-assessment of your personal colour palette. The Colour me Beautiful cosmetic range has been specifically designed with your new colour type in mind and you can sample any shades.
If your colouring has changed dramatically (such as your hair colour since your last analysis), you will be able to buy a new 42 colour swatch wallet. The new Colour me Beautiful colour collection card containing six new fabric swatches is included with your session which fits into the wallet taking your shades up to 48 fabric swatches.
Pricing
1 person – £79 – 1 hour session