Wearing colour is the simplest and most effective way to update your look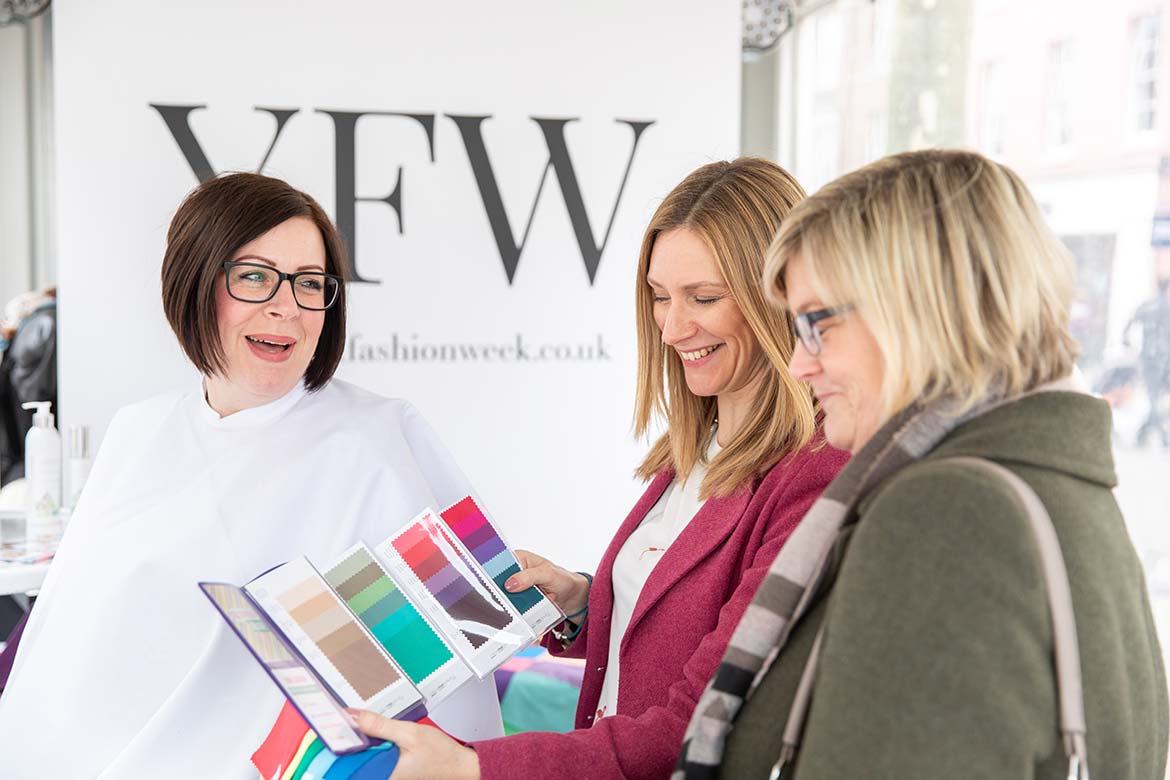 Do you want to wear more colours but you're not sure what shades suit you? 
Booking a colour consultation is the perfect way to change or develop your image. You'll be amazed at the difference that wearing the right shades of colour has and how you feel and look every day!
You'll learn the full range of colours which compliment and enhance your natural colouring. Learn how to wear your colours with confidence and combine them to create a more coordinated wardrobe.
It's not just the colour of the clothes that we wear that are important, but also the makeup shades we wear. Understanding how to wear colour is the underlying secret to getting your makeup and clothing right.
You'll be invited to my studio in Wakefield, West Yorkshire for your individual colour analysis. If you can't make it to a face to face appointment or you'd prefer a session from the comfort and safety of your own home, check out the range of online services available which are available.
Should you prefer to experience a colour analysis as a group session, please visit our groups and event pages.
Colour is usually the first place to start but if you'd rather start with style and image, click here.
Due to the current pandemic, it has been necessary to make some changes to our face to face services. Please review our Covid 19 information at the bottom of our website or contact us for more details. 
Complete Colour
During this colour analysis session, you will learn your 'dominant' colour type, your second and third categories of colour and how to combine them together. This session includes some key makeup items and a colourful accessory so that you are able to begin your new journey instantly with a colourful new look.
A natural application of cosmetics is included in the session matched to your colouring type using the Colour me Beautiful cruelty free makeup range which will complete your overall look. The range has been specifically designed with our colour types in mind so you know the shades will match your skin tone and they are paraben free too. The range is available for purchase on the day and available through our online shop so you can be sure never to run out in the future.
You'll leave with your own personal colour swatch wallet of 48 fabric swatches to help guide you when shopping. A lipstick (or lipgloss) and a super soft fringed scarf, both prescribed to your personal colouring are also included.
Pricing
1 Person – £170 – 2 hour session
Client Testimonial
Not only is Toni lovely to spend any amount of time with, her advice was eye opening. I've only ever bought clothes based on whether I like the look of them and if they fit (no mean feat I can tell you!). Now, when I wear the colours suggested by Toni people comment, as if they didn't notice me or what I was wearing before.
Diane
Basic Colour
If you like the idea of a colour analysis but you would prefer to experience your session without the application of the Colour me Beautiful makeup range, then this session is for you!
You will still learn your main 'dominant' colouring type and how to combine the main colours in your palette together, but simply without any makeup application.
Your session is complete with your own personal colour swatch wallet of 30 swatches to help guide you when shopping and a colourful super soft scarf, personalised to you so you can begin your colour journey immediately.
Pricing
1 person – £120 – 1.5 hour session
Colour Review
If you had a colour analysis years ago but you now realise that your colouring has changed, then perhaps it's time to book a colour review.
This individual session allows me to review your colours and makeup and provide a re-assessment of your personal colour palette. The Colour me Beautiful cosmetic range has been specifically designed with your new colour type in mind and you can sample any shades.
Swatches in your wallet can be removed and replaced and any additional swatch cards for your secondary and tertiary colouring type including a warm or cool colour collection (each containing six fabric swatches). These can be purchased separately.
If your colouring has changed dramatically (such as your hair colour since your last analysis), you will be able to upgrade including the new colour collection and receive 48 colour swatches at a discounted price of £63.
Pricing
1 person – £75 – 1 hour session
Why Not Consider Adding On?
The following services are a perfect addition to the Colour Consultations and can be included as an 'Add On'. They can be taken at a separate time to the appointment and currently, will take place virtually during the pandemic.
Wardrobe Audits
Do you have clothes you haven't worn in months, or even years?
Most people only wear 20% of the clothes, 80% of the time. Wouldn't it be great if your wardrobe worked for you, your lifestyle and your budget?
Avoid those 'what to wear' days and book a wardrobe detox and we will sort through the garments you should and shouldn't keep.
We'll review your wardrobe, sorting through what to keep and those to discard (by donation to your favourite charity, swish/swap or sell if in good condition). Plus, we'll discuss what new items you need to fill in any gaps.
This service lasts 2.5 hours and includes a wardrobe audit handout. This session will take place online due to current restrictions.
You can also add this onto your style consultation booking.
Additional hours can be added at a rate of £45 per extra hour.
£125 for a 2.5 hour session.
Includes a wardrobe audit handout.
Personal Shopping Trips
Do you find shopping a daunting or frustrating experience?
Perhaps you're looking for an outfit for a special occasion and need some guidance?
Do you need some help and support shopping for your new colours and style? Or just need helping filling the gaps you've identified from having a wardrobe clear out?
Let me help and book your own personal shopping experience with me. As we can't meet up face to face, all sessions are taking place online.
You can choose however many hours you would like me to spend shopping for you, or you can instruct me to shop by piece.
We'll discuss your needs and gaps then I'll hit the virtual shops! A follow up meeting via zoom is also included to review any purchases.
You can also add this onto your style consultation booking too or my wardrobe detox.
£125 for an initial session and follow up session and 1 hour of shopping.