Recently, Pantone have announced their colour of the year.
It's quite the highlight for not just the fashion industry, but for interiors and retailers too.
This year, Pantone announced two colours for 2021: Ultimate Gray and Illuminating
A marriage of colour conveying a message of strength and hopefulness that is both enduring and uplifting.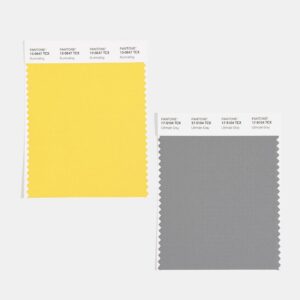 Illuminating is a bright and cheerful yellow sparkling with vivacity, a warming yellow shade imbued with solar power. It will certainly be a hit and work for you 'warms' and those of you with a warmer undertone.
Ultimate Gray is emblematic of solid and dependable elements which are everlasting and provide a firm foundation. Much better for your 'cools' or those of you who have a cool undertone.
If you're keen to wear them and it's not your most flattering, keep it away from your face or wear as part of a pattern or accessory to inject colour.
If all else fails, why not introduce it to your interiors like a kitchen accessory, vase or furniture as you'll see more of them both during 2021.