If you're feeling a bit fed up then fear not! Let me take this opportunity to boost your mood with my simple colour tips. Consider it a dose of some TLC!
Wearing colour has such a profound impact. Not just upon how you look (eg. brighter, younger, tired, youthful) but also how you feel and your mood. Trust me; it really can help to boost your mood and those around you too.
Maybe you had your 'colours done' (aka had a colour analysis consultation) in the past. Perhaps you have absolutely no idea what I'm banging on about. Or, are you up for experimenting with something new? Whatever your reasons, why not get involved and give these a try?
I've put together three simple ways and methods of introducing colour or adding colour in what you wear.
My only rule (well it's not really a 'rule', just advice I give all the time: choose a shade of colour that you know makes you feel good on the inside. (I'm all for looking good on the outside, but it's that feeling good bit I recommend you focus on).
If you prefer to watch my video on Youtube, click here.
1. Colour Pop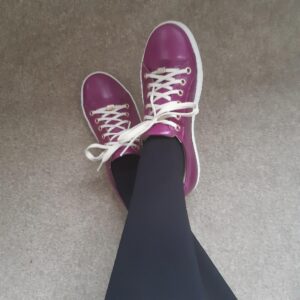 This is the easiest way to start experimenting with colour. So, if you're either not used to wearing colour at all, or you fancy trying something new then this one is for you.
Think of this more as adding a splash of colour to your outfit.
Choose just one colour to wear on it's own as a method of injecting some colour to your outfit.
Most importantly, it could be anything! Perhaps a top, a bag, shoes, socks, earrings, a hat or even a scarf. Any colour you like as you're simply going for a 'pop'!
Here I am wearing a pair of Sneakers from Colours by Ell who stock a range of shoes and colours available to suit your colouring type.
2. Column of colour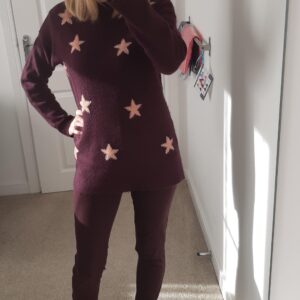 Your next challenge is wearing just one colour this time from top to toe. It could be a top and trousers or a skirt.
You don't need to be too matchy-matchy with your chosen colour here (unless you're a classic or city chic personality type). Tonal shades will work just as well together as does wearing one colour.
Interestingly, this is also a great way to dress if you're on the petite side or if you wish to appear slimmer. A column of colour adds vital inches to a small frame and can make you appear visually leaner.
In this example it's a simple jumper and jeans combo both in damson.
3. Colour drench
Depending upon your style personality type; this may feel rather daring!
With this colour challenge, everything you wear will be in the same colour – including your accessories. You're drenching yourself in colour!
A great way to make this feel less daunting is to mix up your textures and fabrics. If you've not had a style and shape consultation, make sure the fabric you choose highlights your good bits. Adding chunky knits and bulk with layers upon layers of clothes will just add pounds to your frame. Should you carry weight around your tummy or bust for example (or you don't want to showcase them), avoid bulk and texture in the area.
Here I have two examples for you. One in purple and one blue where textures and fabrics and shades of colour are slightly different.
That's your three ways to wear colour!
It's my favourite way to dress: in colour. Colour makes you FEEL GOOD and that's why I like to wear it! My colour and style sessions are available as part of a programme as well as individual sessions both online and in person. If you're ready to book, get in touch and I'll help you on your journey!