Is it just me accumulating A LOT more loungewear??
Are you putting your recent purchases down to isolation necessities or could you try incorporating these new items into post-lockdown wear too?
Personality matters
For me, this feels easy so if you're similar with a Natural Style Personality, you'll already have a fair few easy-wear comfortable pieces in the wardrobe.
I'm betting you Romantics might have felt rather alien in elasticated waistbands, hoodies and relaxed t-shirts.
Ask yourself if you can work any loungewear pieces into your existing wardrobe.
City Chics and Dramatics could try wearing a hoodie underneath a smart blazer for effortless chic. A more fitted pair of joggers or leggings, worn with a smart blouse and heels will create a preppy outfit. Or pair with trainers or flats if you'd rather skip the heels.
Speaking of trainers, wear with your dresses too, even if you may have normally have worn heels. I also have some classic personality and felt totally comfortable as you can see: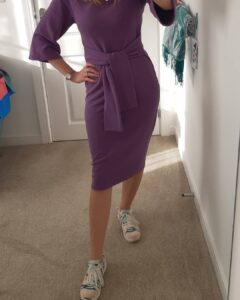 A sweatshirt or T-shirt can work really well over a summer floral maxi dress, giving the illusion of a skirt, and providing an extra layer on cooler days. Put your jeggings or thick tights underneath: think Alexa Chung. This is a look you creatives have being carrying off with ease.
Try a t-shirt with a skirt, tucked in, semi-tucked or un-tucked. The choice really depends on your body shape and the most flattering way to wear it.
Do you have anything in your 'saving for best' or holiday wardrobe that you can switch up to style differently?
If you're joining my capsule wardrobe workshop next month or doing a detox with my five simple steps, then you may have a healthy pile to donate to charity.
Just make sure you've thought about restyling them or wearing them in a different way first. That way, you'll get more outfits and wear from your existing items.
If you need any colour, style or wardrobe advice, book one of my online sessions during lockdown.