I was honoured to be invited to speak at the 'In full colour' fashion event on 20 November. It was organised by Sheffield Hallam University students with John Lewis & Partners.
Trends
The fashion students set up five areas around the room to showcase the colour trends of the season.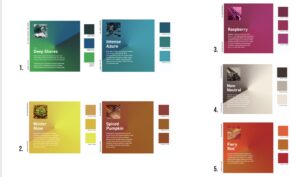 1. Deep shores (greens and blues). 2. Spiced pumpkin (oranges). 3. Raspberry (purple and pinks). 4. New neutrals (browns, greys). 5. Fiery red (reds and rich oranges).
Colour Analysis presentation
At 7pm I was invited to deliver my presentation about colour analysis. If you're on Instagram, you can catch some of the highlights and recordings from the grids. Here's the profile links: @tlcstyleandcolour, @shu_fmc, @johnlewisincolour
I explained what's involved in a colour analysis consultation and what to expect using some examples. Everyone can wear colour, it's merely identifying the shade of colour which is best for you. During a consultation, you learn which work for you. This means you save time and money in the long run. When you wear the right shades of colour in your clothes and makeup, it will lighten and brighten your appearance making you look and feel good in what you wear.
If you've previously had a consultation and was analysed as a spring, summer, autumn or winter, things have changed. If you're finding that some colours aren't working for you anymore or your hair colour has drastically changed; it could be worth booking a review.
The current system is more advanced. At Colour me Beautiful, we assess a person's physical characteristics – their hair, skin and eyes, to identify the shades of colour and how to wear them.
Using clothing from John Lewis, I demonstrated a few of the current trends to the audience. It included how clothes and styles can suit different body shapes. Size doesn't matter but shape does, so if something doesn't fit right, your shape will play a part.
It's tempting to buy what's in fashion, but when you learn what works for your colouring, shape and personality, you don't need to.
The students worked so hard and the fashion show showcase was excellent. I truly wish them all the success and thank them for the invite.
Contact me to book a session.