Knowing what to wear doesn't just mean the clothes you wear. For the ladies, it also means your makeup.
Makeup doesn't have to take hours, change the colour of your face or learning how to contour, though if that's your thing go for it!
But, whatever you do choose to apply to your face, just like your clothes, your makeup should enhance your features. This is as simple as choosing the right shades of colour in your cosmetics.
Colour me Beautiful offer a range of cosmetics to help you achieve this and as a Colour me Beautiful Consultant, I'm delighted to be able to offer these to you. They've been created with our colouring types in mind so you know you'll always be able to get the shades which suit you from me.
The range is also cruelty free, with no lead or parabens (the nasty stuff) being applied to your skin and the majority of the range is now made in the U.K. As they are only available through Colour me Beautiful consultants, I've also committed that when I receive a special offer or discount, I pass it on.
If you're following me on social media or you've seen me recently then you'll have seen the amazing options available until 31 December.
All can be ordered online through my store and delivered to your home address. Spend over £45 and delivery is free.
Plus, if you're local, you can collect from the studio in Wakefield too – just drop me a line to place your order (payment in advance is required).
The special offers make it an ideal time to stock up for yourself or treat a loved one with the savings you can make.
Here's a summary of what's available:
Eye defining duo

Choose a volumising mascara and any eye pencil for just £20. I'd recommend navy mascara for anyone with blue eyes. The black/brown shade works for everyone as does the teal eye pencil.
Time to sparkle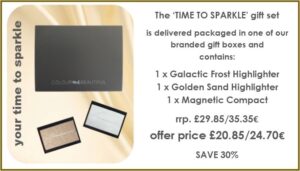 The perfect time of year to add some sparkle! Two highlighters in one handy compact (and you can customise by adding eyeshadows, blushers, lip gloss and powders in the same box too). Dust over the cheekbones, highlight the brows or above the lip. Or, they make great eyeshadows too all for just £20.85.
Getting lippy
Have you Ever struggled to find the right shade of lipstick which suits you? With over 50 combinations available, fear not! Sorted via dominant colouring type online but includes a lipstick, lip gloss and lip pencil all for just £31 to create that perfect pout. Drop me a line, send me a pic or pop into the studio to find out yours.
Defining moment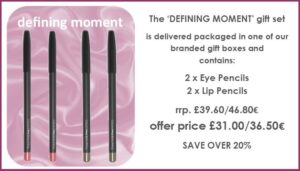 Define those lips and eyes with four soft pencils; two for eyes and two for lips. Line the lips first and my tip is to fill in for a subtle all over, matt colour. Use the eye pencils to help define the shape of the eyes, but be careful not to wrap the eye completely which can minimise the appearance. Four for £31.
Dazzling duo
Create the perfect base using the velvet perfection primer and your perfect shade of morning light foundation. This month, buy both for just £31.50. Remember when choosing foundation to test it first on your jawline. It should blend in and disappear if it's the perfect shade. I always receive such positive comments about how the foundation feels on your skin – not clogging or heavy, good coverage but light.
Going undercover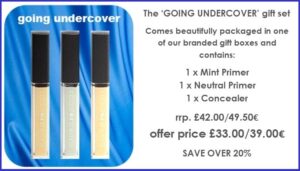 The mint primer neutralises any redness (including spots, patches and rosacea). The neutral primer gets rid of those pesky dark circles! The concealer then conceals them all. Get all three for £33.
New Facial Oil – BOGOF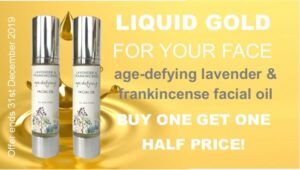 What better time of year to introduce the newest skincare product to the range which includes GOLD!
All the skincare is made in the U.K., in recycled packaging and is organic and vegan and filled with essential oils.
Buy one, get one free (one for you, one for a friend?) for £37.50 or buy one for £25.
Pic n mix compact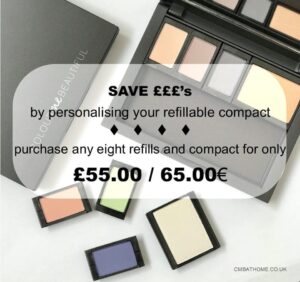 If you were a pic n mix fan in Woolworths like I was when I was younger, you'll love this! Choosing eight refills for the compact will be tough though. Includes eyeshadows, blushers, lip glosses and highlighters but excludes the pressed powder and bronzer). All eight included in the compact for just £55.
Winter skin savers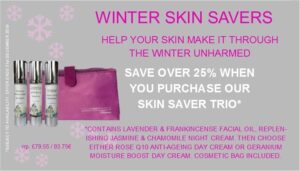 This makes the perfect gift this winter. All three (full size) products in a purple cosmetic bag. Includes the new lavender and frankincense facial oil, replenishing jasmine and chamomile night cream and your choice of either the geranium moisture boost day cream or rose q10 anti ageing day cream. All three for just £59.
If you need any help choosing the right shades, just ask and I'll be happy to offer advice.
Purchase online or contact me to buy and collect from the studio in Wakefield.