I was delighted and privileged to have been asked to take part in an event during York Fashion Week last week which I announced in January:
https://www.tlcstyleandcolour.co.uk/2019/01/28/save-the-date-28th-march-2019/.
York Fashion week
It takes place across the entire city with businesses and communities taking part across the full seven days. 2019 was reported as the biggest to date and 2020 plans are already underway according to one of the organisers; Angela Horner.
Prior to the event, I was interviewed by That's  TV York. You can view  it on Facebook and I'll be adding it to my media page shortly.
The event
When Yorkshire model; Deborah Hirzel invited me to speak at her event (Deborah Hirzel presents style confidence at Debenhams York held on Thursday 28 March), I was delighted.
Her attitude towards dressing mirrored many of my own thoughts and feelings. I loved her #styleatanyage mantra and I just knew it would be a good fit.
The queues began to emerge awaiting Debenhams doors to open at 6pm with a glass of fizz on arrival for guests.
Deborah, also an ambassador for York Fashion Week, opened the event with a quick introduction before handing over to my fellow Colour me Beautiful colleague; Rachel Watson.
Colour confidence
Rachel talked about colour confidence and the impact that wearing the right shade of colour has; not only how we feel but against our appearance too. Wearing the right shade will lighten and brighten your features, but wearing the wrong shade will cast dark shadows, something we all want to avoid!
I say many times, everyone can wear colour, you just have to find the right shade. She proceeded to explain our six main colouring type and we demonstrated the right and wrong shades of colour on me. Whilst not one of the official models for the evening, it was fun to be able to show the difference that wearing colour has to the audience and for them to see the visual this had.
Rachel and I are opposites, not just in our colouring but also in our style. After all, everyone is different.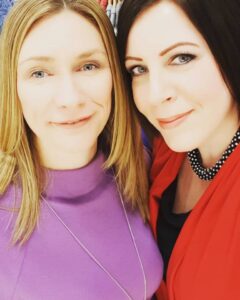 Style confidence
This wasn't the first event this year I have been invited to talk about confidence as it comes up frequently.
Looking and feeling good isn't about buying expensive clothes, nor is it about being at the cutting edge of fashion. It's not about size either, as we all come in different shapes and sizes.
If you feel good in what you wear, your confidence in this will show – looking and feeling good really are linked.
Remember: Fashion is what you buy, style is what you do with it.
There were some great pieces in the collection and a lot of colour around this season which is always welcome. During my talk I used items from the store to demonstrate not only colour but shape, style, proportions and patterns as these are the factors which affect whether a garment will suit you, or not.
Choose the wrong shade and it will wash you out or cast dark shadows against your features.
Wrong shape for your body lines  and you'll never be comfortable.
Doesn't fit with your personality or lifestyle? You'll never wear it and it will sit in your wardrobe. With the label on!
If the pattern is too big or bold on a petite frame then it will swamp you. Too small a pattern on a taller person and it will look silly. Same with your accessories.
I am so happy to have been involved and be able to watch the models in the fashion show afterwards. They all did a great job.
Post event
I met some lovely people at the event who had a variety of questions.
What colours would work for them? What suited their shape? Did this top hide this feature and so on. Some were surprised to learn that we now have six main colouring types and that we don't work on seasons anymore. I was happy to answer questions and offer advice.
Get in touch
If you want to learn how to dress for your body shape and personality in shades to compliment and enhance YOU so that you can look and feel your best every day, get in touch!
I offer colour consultations, style analysis, makeup assessments at home, makeup lessons and wardrobe and shopping services, but I can bespoke any session you are interested in.
Go and check me out on Facebook and sign up to my newsletter here.