Do you struggle to wear prints and patterns or do you just LOVE them?
I often find that one of the challenges with prints is choosing something which you like (and likes you equally) and then, how to wear it. It's something which I'm asked frequently.
There are lots of patterns and prints and it's ok to say that you don't like it, even if it is 'fashionable' or 'on trend'. Don't worry about it, choose what you're comfortable with as when you do, you're more likely to wear it.
Here, I'm going to name three prints that won't date so that if you are going to venture into the world of prints and patterns, you can feel confident that what you invest in, can be worn time and time again. That's £s per wear.

The stripe
The most popular I'd say of all patterns and something which many clients bring into the studio. The Breton stripe, is possibly the most well known but officially speaking, to be a true Breton, it should have 21 stripes, each representing a Napoleon victory because sailors were wearing stripes way back in 1858 (apparently the distinctive print made it easier to spot wayward sailors who had fallen over-board – who knew?)
Bar far the most popular retailer of the Breton top is Boden as featured in this image.


Stripes can be used as a method of balancing out your figure. Triangles (pear shapes) can use stripes across their top half in order to visibly balance out so their shoulders look more in line with their hips. You can see this in the pic above how the shoulder area appears wider and at the same time, lifts the eye away from the hips.
Vertical stripes are excellent for lengthening the torso, so if you're after a few extra inches without the heels, try this which is an easier fix.
Polka dots and spots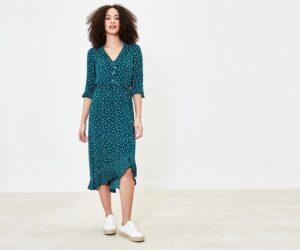 Another pattern which always seems to be 'on trend'. It doesn't have to be black and white or navy and white remember! Use colour where you can as seen in Oasis.
If you have a larger frame, be sure to choose larger prints such as super sized polka dots. And for petites, tiny little spots will work well.
They are surprisingly easy to mix with other prints. Go for a preppy look by adding stripes or try a floral print of similar scale and colour for an interesting combination.
Animal Print
Not only for Bet Lynch! Animal print remains around but does seem to get reinvented each season to switch it up. If it's a little bold or too out there for you, try to keep the pattern to just one item. It could be a pair of shoes, a top, scarf, coat or bag. Check out my brogues here. Bought a few years ago now from Clarks and still worn today.


Last year we saw more coloured animal print patterns emerge making it more versatile. Warmer skin tones will suit the more traditional brown leopard print but if you're cooler with pinkier skin tones, try for other colours as there really are more versions out there. If you purchased anything last year when the trend really peaked, be sure to dig it out!

Of course, there are other patterns but these are my top three. Go on and check inside your wardrobe and see if you have them!