A top in the right shade of colour will help you to look younger, fresher and more vibrant, the wrong shade could make you look pale, sallow, grey and even unwell. But, choosing and wearing the right shades of colour applies to your makeup too. It really does matter what you put on your face.
Remember that even if you're working from home, it doesn't mean you have to go barefaced! With so many people working remotely and having online meetings, make sure you look your best even virtually.
Here's my cosmetic tips using the Colour me Beautiful cruelty free range.

Skincare
Having a good skincare regime is a must, even if you are staying safe. Good genes will only go so far, as will diet and exercise. Cleanse, tone and moisturise are the steps I've followed for many years. Revisit last year's blog on self care and good skincare habits you can adopt here.

Base and primers
If you suffer from foundation that creases or seems to sink into the skin, there's a really easy fix. Try using a primer; it creates a smooth surface onto the skin (after your moisturiser or day cream), so your foundation glides on. Your pores and fine lines will be minimised and the effect will last all day. Keep it in the fridge for a refreshing application, especially in hot weather. It will help to close your pores after a hot shower too.
I like to use the Velvet Touch Foundation primer when I want a flawless finish and to limit any touch ups during the day. Just a small drop is all that is needed and you can shop the Velvet Foundation Primer here.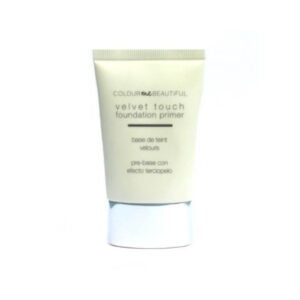 Foundation does a great job of evening out skin tone and gives much more coverage than a tinted moisturiser or BB cream, but sometimes it needs a little help. Introducing targeted concealers or coloured primers as they are designed to hide imperfections and are applied before your foundation.
Here is how you choose the correct colour:
Lavender – counteracts any yellow tones, brightens dull or sallow skin
Mauve – counteracts any brown tones, helps to brighten any dark or age spots and help diminish dullness.
Green – neutralises any redness, broken capillaries, rosacea and sunburn.
Yellow – counteracts any purple and dark circles under the eyes.
I couldn't live without the yellow and the green coloured primers. On the occasions when I need some extra under eye coverage, I will mix together on the back of my hand the lavender and the yellow.
If you prefer a lighter texture which you can build up or just need one colour to solve a problem, then the liquid coloured skin primers are worth using. They have an in built applicator which you can apply to the skin and blend with your finger. Shop the skin primers here.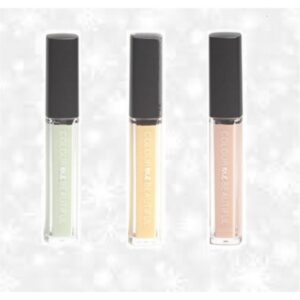 If you prefer a fuller coverage or you have more than one area you'd like to correct, the creamier colour corrector wheel contains four shades in one pot which you can apply with your finger or a brush for more precision. Shop the Colour Corrector Wheel here. 

Foundation
Not only does foundation even out the skin tone, it also acts as a barrier against pollutions and toxins. Generally speaking, the most coverage is needed in the centre of the face, so try to apply here first and blend outwards. Contrary to what some say, blend downwards as it won't clog the pores and will prevent fuzzy facial hair from lifting and spoiling the flawless look. I prefer to use a damp sponge to apply foundation, though you can equally use your fingers or a brush.
I always recommend choosing a shade of foundation which matches your skin tone. All too often I see ladies wearing a shade of foundation which is too dark for their natural skin tone. Often I'm told they feel too pale otherwise so they go darker but your colour is added with your bronzer and blusher and if it's too dark, you'll see a tell tale line under the chin looking very different to the neck!
Apply your chosen shade of foundation to your jaw line in natural daylight and when you check it in a mirror, it should completely blend in. If it doesn't, I'd recommend choosing a lighter shade. There are six of shades of Morning Light foundation in the range I use with clients and many are surprised at how good the foundation blends and doesn't feel heavy at all on their skin. The Morning light Foundation contains light-diffusing properties that deflects light from the surface of the skin, thereby minimising the visibility of fine lines. I use the lightest shade of Porcelain on my skin and then move up to the second lightest called Oyster when I have some colour in the summer. Shop the Morning Light Foundations here. 

The eyes
Did you know that black eye pencil and mascara can look really harsh on mature skin. It can also minimise the size of the eye making them appear smaller too.
If you've got particularly large eyes or really rich and dark colouring, black may not be such a bad thing, but for the majority of clients I see, black isn't the most complimentary shade of eye makeup colour to wear.
So what can you wear? Fear not, there are far more flattering shades to choose from in your eye pencils and mascara. I'm often asked why bother with eye pencils. When you apply it on the lash line, it appears to thicken the look of the lashes and add definition. Mascara will colour the lashes and add volume and length, depending upon what you use.
When it comes to eye pencils, most people are surprised by the array of shades available. Teal is a colour that most people can wear and if black is your thing, try wearing granite next time you need to replace it.
A volumising mascara is something I can't leave the house without (together with the yellow primer. Oh and a bit of colour to my lips). Everyone can wear black brown mascara and it's readily available, but, there's two shades I tend to favour with clients – Navy and Warm Brown. Most people look horrified at my suggestion, then they try them out and they are utterly flabbergasted at how great they look on. If you've got blue or grey eyes like me, I'd recommend the Navy volumising mascara and if you've got green or brown eyes, you've got to give the warm brown volumising mascara a try!
Shop the eye pencils and mascara range of shades here.
Eyeshadow can be used to add depth and dimension to your eyes, whether it's a natural, dramatic or smokey look that you are after. It doesn't have to be difficult to create a look that is right for you.
I meet a lot of women who've either been applying their makeup the same way for years, so it feels a little out-dated, or they've never really learnt how to apply eye makeup for good effect. During my makeup lessons and assessments I would generally use up to four different eye shadows; a neutral base, a deep shade to define the crease, a colour for the outer edges to add interest and a blender shade to soften any lines.
To achieve your best look, the colours that you choose to apply should also compliment your physical features; your eyes, hair and skin tone. I would advise against buying expensive, universal eye shadow compacts, as there will always be multiple shades that do not suit you or which you do not like. Any pre-made universals compacts are not personalised to you or bespoke to your characteristics.
During consultations and assessments, I recommend the shades of cosmetics which suit your physical characteristics as not everyone suits nor wants to apply a dark smokey eyed look! Using a refillable compact system enables you to build a bespoke palette of eye shadows (and more) that you use and love. And most importantly, there's less waste too because when you finish using your favourite shade, it can simply be replaced. There's room for any combination of eyeshadows, blusher, powder and lip gloss too making it perfect for personalisation.
There are over 25 different eyeshadow refill shades to choose from to suit you. You can use them on their own (keep the plastic lid on them), but I'd recommend using the magnetic refillable compact and building your box with the additional items you require. Shop the refillable compact range here.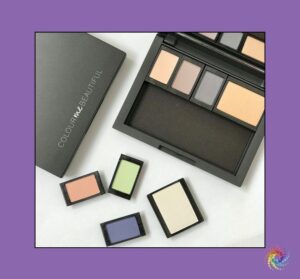 Cheeks
There's nothing better than giving your cheeks a rosy glow but finding the right shade can often be a challenge. The job of your blusher is to make the rest of your face look brighter and fresher, so choose a shade that compliments your skin tone rather than contrasts against it.
As a rule of thumb, pinky-pinks work well on cooler skin tones, whereas peachy-pinks are better on warmer skins. The depth of your blusher very much depends on your overall colouring. Apply to the apple (middle) of your cheeks and blend out towards the hairline. There are six shades of powder blush which are available as refills and fit inside the magnetic compact. If you prefer a cream to a powder, consider using the cream blush. There's two shades available to suit warm or cool tones but as an added bonus, they double as a lip gloss too for a light colour. I have cooler skin and love the crushed berry shade which fits neatly inside my magnetic compact. Shop the powder refill range and the cream blush range here.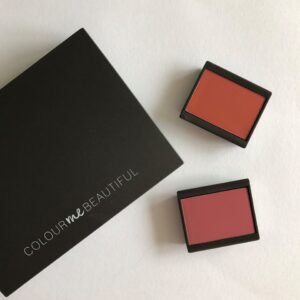 Lips
As well as foundation, lipstick is another product which I am repeatedly told that finding the right shade of colour is a challenge. One look inside your own makeup bag and a rummage may find multiple shades of lipsticks, many of which you do not wear!
Lipstick can be impactful or tonal, the choice really is yours. Either way, it's important to find the right shade. A bit of lippy can be as powerful as wearing the right colours in your clothes – so long as it's the right shade for you of course! Plus, I was told a long time ago that as lipstick frames the mouth it makes people pay more attention to what you're saying. Give it a whirl!
I'm not much of a believer of buying the 'latest colour trend' (be that clothes or makeup) and whilst two people with similar colouring may well be able to wear the same shade of lipstick, in my experience they will each wear it with a very different impact.
It is very rare to find a shade of lipstick which works for EVERYONE! But, you can find the perfect red, pink or other shade for you. You probably won't look back either! If you need any recommendations, feel free to ask.
If you prefer a slick of lipgloss, there are shades for you – from nude to colour. Shop the range of lipsticks (sheer and cream) and lipgloss here.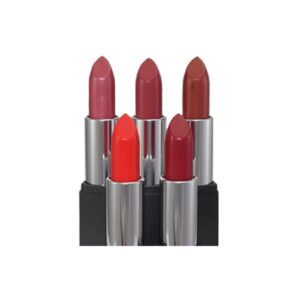 There are lots of ways for you to experience the Colour me Beautiful makeup range. Most people have been introduced to the range by a Colour me Beautiful consultant like me, as it's exclusively available through their U.K. and Europe consultants.
Obviously, face-to-face sessions are something for you to bookmark for the future, but in the meantime, you can get in touch for an online or virtual consultation from the comfort of your own home if you need advice.
Get in touch to discuss your requirements. 25% is available off the entire range until 16 April. Visit the online shop here.