In October, I ran an event in Wakefield alongside Julie Woodward. We wanted to show people how you can not only look good, but feel good too. How? Well, simply with the power of wearing the right colours and having the right nutrition.
The event
It was a rather wet evening but we didn't let the weather dampen the night. We had bottles of fizz at the ready to greet our guests too.
If you're a regular reader of our blogs, or you've previously 'had your colours done', you'll already know how wearing the right shades of colour can totally transform your look, make you appear more youthful and healthier. The impact that wearing colour has on how we feel is equally important so we feel confident in our own skin.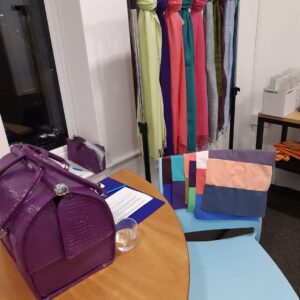 In events of this type, I like to show people what the impact is of wearing different shades of colour with the use of my tonal panels. Getting oohs from the audience and seeing the look on people's faces when they light up with the right shades against their features is amazing. I never get bored of it!
Meanwhile, Julie focussed on how to achieve good gut health. A healthy gut can contribute a great deal to our overall wellbeing – mentally and physically. Taking in the right nutrients can help and whilst it should be through eating the right diet, we never seem to get enough do we?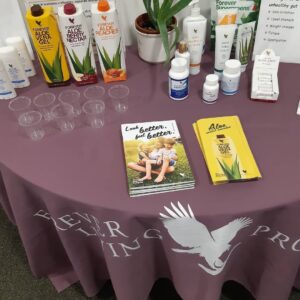 Julie highlighted some common signs of an unhealthy gut. These can include skin irritations or break outs, fatigue or irregular bowel movements. Taking in the right nutrients, through food, supplements or drinks, can help you to achieve your diet and lifestyle goals.
Thank you to those of you who came along to join us.
For more information about achieving a healthy gut, visit Julie Woodward's website: www.essentiallyaloe.co.uk.
If you'd like to learn how to gain confidence with colour, book your own individual consultation.