Red is the colour most often seen at this festive time of year. The good news is that there is a shade to suit everyone!
Here are some options for you to try.
Soft & Romantic
Check out the back detail on this Reiss dress – this will no doubt appeal to those of you who have Romantic style personalities and the Geranium shade will work for those of you who fall into our Soft and Light colour categories.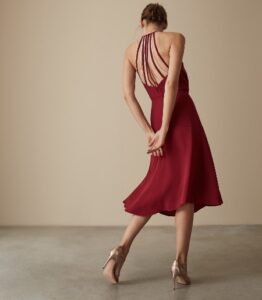 Why not complete your look with our Red Velvet or even Strawberry lipstick? Visit here to order online.
Deep & Dramatic
If you like to make a statement, why not do so in this Karen Millen sparkling number. You won't need much accessorising as it is so stunning, so I'm sure it will appeal to those Dramatics out there.
If you fall into our Deep or Clear colour categories then this bold choice will work beautifully for you.
Why not complete your look with our Tomato or Ruby Lipstick? Buy it here.
Cool & Classic
Those of you with Cool colouring should be careful when it comes to wearing red and to avoid any with a yellow undertone which would make it warm. A Blue Red or purple/blue based shade, like this dress from Hobbs, will work best for you.
It's a timeless and understated style which will appeal to those of you who have a Classic style personality – simply add your own accessories for a chic evening look.
Why not wear our Red Carpet or Sheer Fiesta Lipstick to finish off your look? Shop for it here.
Warm & Natural
If you fall into our Warm dominant colour category, most shades of red will work of you but remember to avoid the blue-reds.
Why not try this Reiss jumpsuit – it's the ultimate in easy evening dressing so simple and so chic.
Those of you with Natural style personalities will love this simple look and you can also easily wear flats with it too.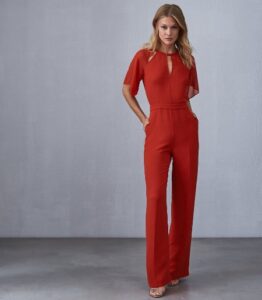 Why not complete your look with Red Velvet or Tomato? Buy it here.
Step into 2019 in style
If you want to learn the season's key trends, update your wardrobe, go shopping or learn what suits you then why not make an appointment for next year?
Contact me to book or visit my services page.