Does the thought of a declutter fill you with dread or enthusiasm? No time to do it? Or is it just too overwhelming?
Perhaps with lockdown, it seems to have been an area of focus for many people. In May 2020, I worked with a professional declutterer to bring you our first virtual wardrobe workshop. We recorded a tutorial which you can watch if you missed it which comes with our top ten tips, simply drop me an email if you're interested.
There's also been a surge in the number of people who have been downloading the free five step guide too so they can declutter following my simple advice.
I've helped numerous people as well: this is what Helen had to say after our declutter session:
Not everyone has gained time during lockdown to dedicate to the task. Some people tell me they simply feel like it's a job too big to tackle and they aren't quite ready to let go and let me help.
Introducing the new video series – how to declutter in manageable chunks
I decided to record a series of videos covering just five areas to focus on and declutter. You can watch the video series on social media and YouTube here:
Youtube – Part 1 /Part 2 / Part 3 / Part 4 / Part 5
Splitting things down into manageable chunks makes it easier to tackle and takes less time so it doesn't feel as overwhelming. Typically, these areas are often left untouched making them ideal to focus on for my declutter series.
Here's a summary of each video in the series:
Part 1 – Sort your smalls!

Given how frequent we open and close these drawers, you'd think that we'd clear them out more frequently. This drawer is often neglected the most.
Throw away any old, worn or items with holes. Remember, bras in good condition can be donated to charity.
Tighten your bra straps as they 'give' with time. A well fitted bra can give you a much better posture and shave inches off of your figure! Try stacking them with the cups one behind the other to save room.
Why not colour code your pants or sort them into everyday and going out piles? Just remember that if it's organised then it'll be easy in a morning. There's lots of organisers and folding techniques online.
Now move on to hosiery and socks. I was surprised by how many tights I had and yet did not wear (it even happens to me!) Throw away any that are snagged or have holes. Sort into colours and again dividers can help to organise depending upon your drawer. Give the drawers a wipe or vac before putting everything back in.
Part 2 – Jewellery declutter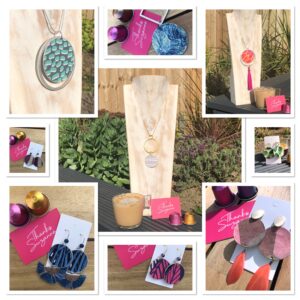 Rather embarrassingly, I'd let my jewellery boxes become somewhat untidy and taking a bit of time to look through each box can uncover a potential treasure trove!
For now, you may not be going out or dressing up as much, but you'd be surprised at the joy sparked when you uncover an item you've not worn in a while and forgotten about. That's what can happen when everything is tucked away. If you have room to display your necklaces and you like it that way, then do. Or, for a tidier approach, keep them safe and use jewellery boxes. The 'stackers' system allows me to store everything away to keep it tidy.
With your sentimental pieces which you can't bear to rid of them, simply clean them and store them. For everything else, just like your clothes, ask yourself if you'll wear it again? What with? Try and play dress up if it's something you love so that you can find a way to wear it.
Part 3 – Handbag Declutter
When was the last time you checked or emptied your handbags before putting them away? Upon undertaking the task myself early into lockdown, I discovered a lipgloss, lipstick and hand sanitiser; so it was a worthwhile task!
No matter the size of your collection, get them out and empty each one in turn. Vacuum the insides if they need it and wipe them down before putting them back where you store them.
Remember that just like clothes; what you can't see you won't use, so don't tuck them and hide them away. Check for any repairs as if you have any high end or designer bags, there are services available to repair them.
Finally, don't hang onto bags you won't use or don't 'match' any more. They just clutter up space. Donate or sell them if they're in good condition.
Part 4 – Make-up and toiletries
If you tend to store things in multiple locations, it's easy to lose track of what you have and what's being used. Be realistic about how much you have – there isn't any point keeping 20 lipsticks if you forget to wear it or that cleanser or moisturiser if it doesn't agree with your skin. Equally, anything you don't use or doesn't flatter you, is worth getting rid of too.
It can be tempting to keep things if you've spent a lot of money, which I totally understand. But, just like clothes, if it's not flattering for you/you don't like it/it doesn't like you, then why keep it if you'll never wear it?
Clean and wipe down any containers or makeup bags, using anti-bacterial spray or wipes if you prefer. Note the little picture of a pot with a number underneath or on the label of your toiletries and cosmetics. This refers to the number of months an item is at it's best once it has been opened and can vary between manufacturers and products.
Has it got a funny smell? Ages since you first opened and used it? I'm afraid my advice is to bin it – you don't want an infection and it certainly won't be at its best anymore. This is where I tend to see the most waste; usually because the shade isn't right – everything from lipsticks, foundations, mascaras, blusher and face creams.
Contact me for advice on the shades which suit your colouring if you find this is an area that you spend and waste money on.
Regularly wash your brushes and sponges too with a makeup brush cleanser. I use a brush egg to really get into the bristles too which are available on the high street for £1. My Rose Micellar water (see my video last year) also does the job. Sponges (again cheap to buy) can be popped into a mesh net bag and washed in the washing machine but when they begin to break, put them in the bin.
Use trays or organisers rather than have your cosmetics loose in a drawer to keep them tidy and stop them getting damaged. My magnetic compact is perfect for this and allows me to keep my eyeshadows, blushers and highlighters in one handy box and using less space too.

Part 5 – shoes
We do love shoes don't we. I'd say this is the area that can totally show your personality type as well as being in need of a declutter and sort out.
Some people tend to keep things for certain occasions: that wedding 4 years ago that you've never worn them again. Another pair of black boots, more worn than the current pair you're going to start wearing. Or, the shoes you simply can't walk in/kill your feet but you love them so much, you can't possibly let them go!
Be realistic and honest with yourself. If you've got 5 pairs of black shoes or boots which are pretty much the same, do you need to keep them all?
Prefer matching your footwear to your handbags or outfits? Maybe you've still got the items you matched the shoes with (ie the wedding from 4 years ago). If not, can you wear them with something else? If you can't or you won't, then is it worth keeping them? Again, you can donate any or sell any if good condition.
These are areas you just don't get to aren't they? When life is a bit hectic or you weren't as tidy as you'd like to be. It certainly does take less time to declutter this way and is still equally as rewarding!