Gap have recently announced that they'll be closing their high street shops soon and remaining online. It's a common theme for the high street unfortunately.
It did remind me of my own shorts collection and a client of mine.
She contacted me to ask for some shopping advice for shorts as she struggled finding the right styles and fit.
Here's some tips.
Firstly, shorts are for anyone of any age (just like most clothes in fairness). It's all down to how confident you feel in what you wear. And, choosing your clothes which fit your shape, proportions and style preferences. This is covered in my style and image consultations. 
The main issue my client had with shorts was the width of the leg. She had lovely slim legs and was petite so if the shorts were too wide, they looked baggy and her legs looked too 'spindly'!
If you are petite, it's key to get the right size or they can swamp your bottom half and make your legs appear shorter than they are.
Short lengths and styles
The length of your shorts should also be considered. Just like a skirt or dress, shorts can also come in different lengths and styles.
That's where Gap was one of my favourite retailers. They featured different lengths and styles and often in a range of colours and fabrics and prints.
Here are a few from my own collection:
Bermuda
These have a longer length. Bermuda styles are usually more fitted and straight legged too. I have 9 inch and 10 inch lengths.
girlfriend shorts
Offer a more casual style. Mine are a 3 inch length so the shortness of these may not be for everyone. You'll also find activewear or beachwear this length.
city shorts
A slightly smarter version and similar to chino styles and come in different lengths. Mine are 3 inch.
Paper bag
These are high waisted and gathered at the waist, often a dressier very of shorts. Unfortunately, they aren't universally flattering. They tend to suit those with a clearly defined waist and those with a longer body better.
pleats and darts
These will create shape so be more fitted and tailored. If your curvier, these will be much more flattering for your figure.
mid length
This would be the most universally flattering length in my view. Typically, around 5/6 inches length in the inside leg. This is because this is usually the point of your leg when it begins to narrow and therefore more flattering.
Sit and stand test
When you're trying your shorts on, sit in them as well as stand! You don't want them too tight on the thigh so that when you sit they are too restrictive.
Fabric
Natural fibres have more breathability to them. They tend to come from animals, plants and minerals. These include fabrics such as cotton, linen, silk and wool.
Synthetic fibres are usually made with artificial fibres and chemicals. As they are man made, they are more affordable and are designed to be used more frequently. Polyester, rayon and acrylic are common fabrics often created to mimic the natural fibres mentioned above.
The result!
Following my advice, my client sent me some pictures.
Here, in the first picture are her standard shorts.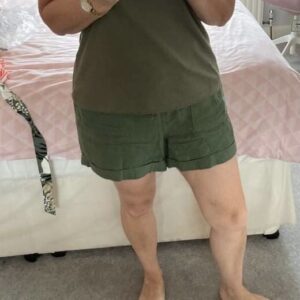 In the second picture, her new tailored fit shorts. Slightly longer in length but more fitted and much more flattering for her shape and frame.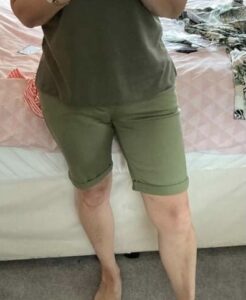 If you need some styling advice, get in touch.